The Energistics E&P Business Process Reference Model identifies the asset life cycle stages and the main business, operational, and management processes used to execute the work in those stages. This model defines a common set of processes for which data exchange standards are defined.
The figure below provides a high-level overview of the model.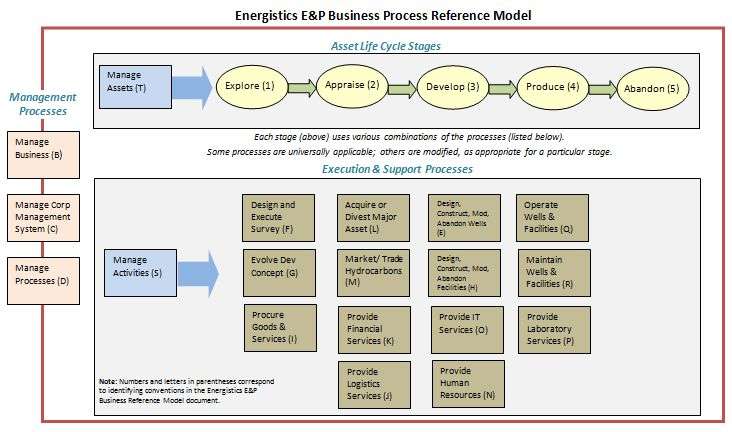 For a complete model description, download E&P Business Process Reference Model (PDF) . The current version of this model is based on one that is used by a major energy company. The model does not depend on nor promote any specific organizational structure or technical tools. The Business Process Reference Model is itself an Energistics standard. As such, it is subject to updates and enhancements. To find out more about updating the model, contact Energistics.
PURPOSE OF THE MODEL
The Business Process Reference Model serves as a source for defining common processes, concepts and vocabulary for which standards are developed and applied. (For more information on the standards development process, see (
Standards Development Life Cycle
)
BENEFITS OF THE MODEL
The key benefits of maintaining and using this standard BPRef Model include:
Saves time in developing standards and best practices because business process context does not have to be defined for each standards development cycle.
Facilitates development, understanding, and application of standards to business processes because of clear, common definitions of processes, concepts, and vocabulary.
Can serve as a starting point for defining innovative new workflows, including alternate approaches enabled by newer Internet-based technologies such as real-time communication and collaboration.
Provides basis for requirements for automating workflows within application software and interoperability among applications.
Facilitates industry and cross-industry business process standards development activities, and enhances the strength and credibility of the E&P industry in such endeavors.
ACCESS AND USE LICENSE
All access, receipt and use of the Energistics E&P Business Process Reference model are subject to the Energistics
Product License Agreement
.